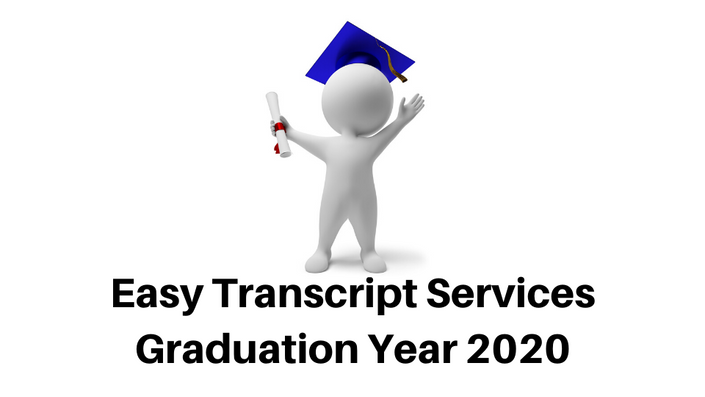 Easy Transcript Services For Graduation Year 2020
Easy, Fast, & Affordable High School Transcript Services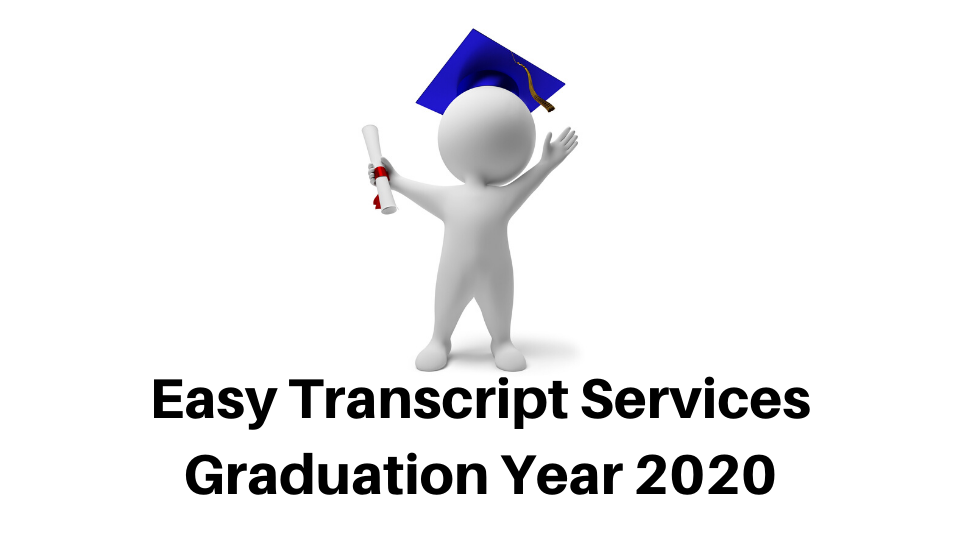 High school transcripts can't get much easier than this!
Toss out the old challenges of creating a professional-looking high school transcript! And, forget about tabulating your child's overall weighted and unweighted GPAs. We'll do it for you!
It's as easy as 1, 2, 3.
1.) Complete our questionnaire. 2.) Email it to us. 3.) We'll return email you completed, professional-looking transcripts.


Easy Transcript Services Includes
One Pre-Graduation Submission & One Post-Graduation Submission
With Each Submission, You'll Receive Two Transcripts
* Transcript One Displays Both The Weighted & Unweighted GPA's *
* Transcript Two Displays Only The Unweighted GPA *
Why Two Transcripts Per Submission?
Some universities/programs only allow you to submit transcripts with unweighted GPA's displayed, so our program offers you both types of transcripts. One transcript with only the unweighted GPA displayed and another transcript with both the weighted & unweighted GPA's displayed.
When Can I Submit For A Transcript?

You can request two times for a transcript. Submit the completed questionnaire and get a pre-graduation transcript. Submit the final questionnaire and get an official post-graduation transcript.
What If I Want A Transcript For Each Year Of My Child's High School Journey?

Easy Transcript Services offers you the ability to submit for one transcript prior to graduation and one transcript at graduation. However, if you find that you want to submit for an updated transcript throughout your child's homeschool journey, you are welcome to do so, but additional fees apply. To learn more, email [email protected].
Do I Have To Submit My Child's Transcript In May Of The Graduation Year?
You're welcome to email us your child's Easy Transcript Template at YOUR convenience. Have an unexpected situation arise and need an extension beyond the graduation year, no worries! Simply email us at [email protected].

How Will I Receive My Child's Transcript?

Once you've submitted your transcript questionnaire, we'll provide you anticipated date that you'll receive your student's transcript via email. Once created, you'll receive a PDF version of your child's transcripts via email.
What If I Don't Have PDF Viewer Software?
Inside this program you'll find a link to a free downloadable PDF viewer program. Prefer a different PDF viewer program? No problem! Simply download a program of your choice.
How Many Transcript Copies Can I Print?

Print as many transcripts as you like.
Program Includes
To help get you started, the program includes:

Step-by-step eLearning Videos
While the questionnaire is easy to use, you may have a question here or there. The goal of the videos is to help answer those questions.
Downloadable eBooks/Instructions
As mentioned, the questionnaire is easy to use but you may have a question here or there. But, not all of us are video learners. Some of us may prefer printed instructions and we've included those too!
Downloadable Questionnaire
Download the questionnaire and when you're ready email that same file back to us! We'll quickly create your transcript and email it back to you in a PDF format. And...you can print as many as you like!
What's My Job As The Parent In The Transcript Process?
Parents need to assure the accuracy of the transcript information, so be sure to proof your child's transcript information before submitting the transcript template and also review it after receiving your final product.
Our goal...to help simplify your family's homeschooling journey!
Check-out The Sample Transcript Below!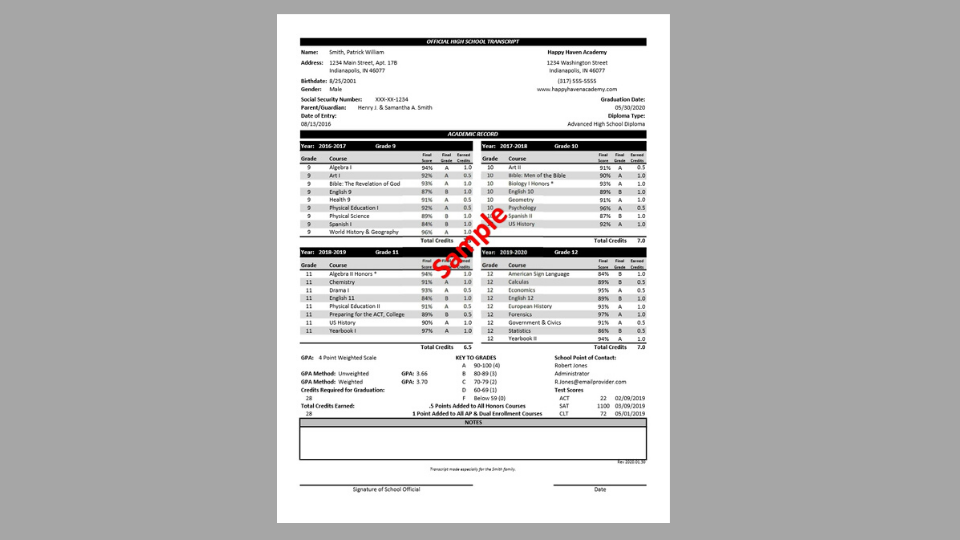 Your Instructor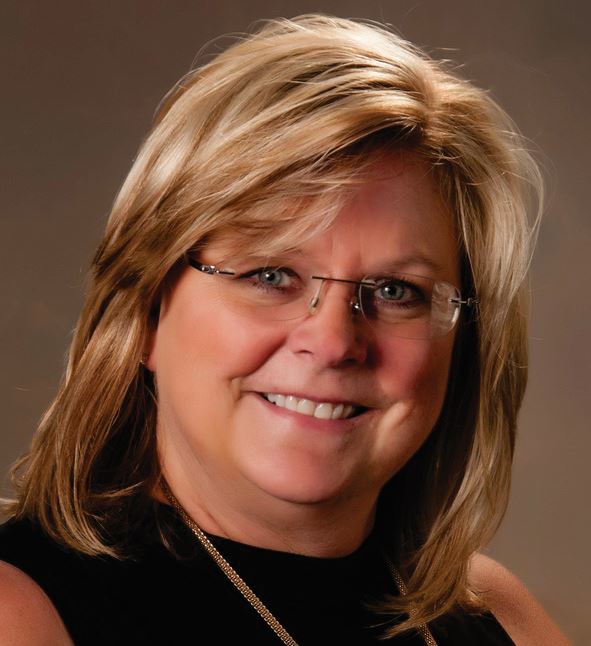 Susan Hale is an award-winning educator, former Corporate America professional trainer, and now homeschooling mom who focuses on providing easy-to-use, professional-looking homeschool record-keeping and transcript tools as well as numerous online interactive self-paced courses.
Susan has a passion for organization and a knack for breaking down big tasks into small, manageable steps that allows her to help reduce the busyness of today's homeschool families. She offers several online computer software, leadership, and business skill classes that target independent-learning in a fun and interactive manner with a goal to ease the need for a parent-taught curriculum.
Susan and her husband of twenty-eight years have three children and are passionate about homeschooling. They live in the south surrounded by family and the wonderful smell of sea air.
Course Curriculum
Overview & Step-By-Step Instructions Regarding Easy Transcript Services & Its Template
Available in days
days after you enroll
Start Here! Instructions Tab!
Available in days
days after you enroll
Grading Scale
Available in days
days after you enroll
Courses Included with Purchase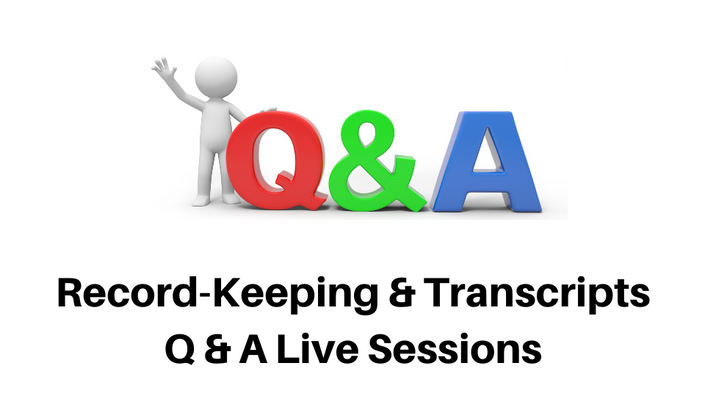 Q & A Live Sessions for Record-keeping & Easy Transcripts
We're here to help and support you!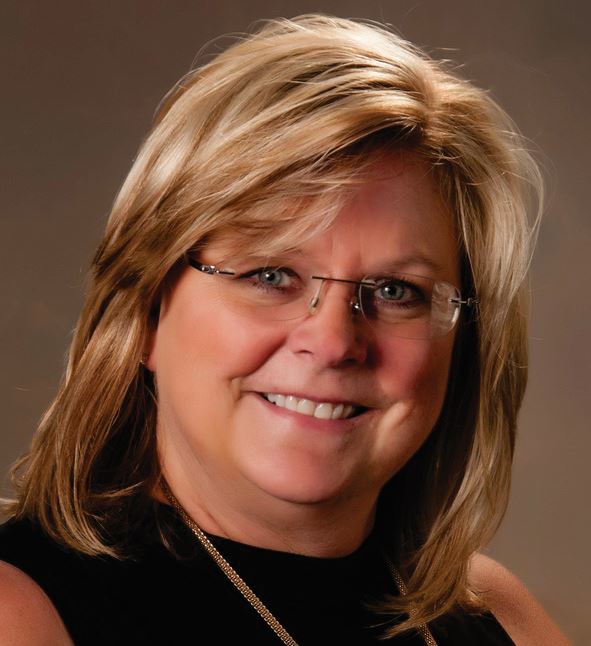 $195
Original Price: $195
Frequently Asked Questions
How soon can I start completing the transcript questionnaire & when does this program expire?
You can start completing the transcript questionnaire immediately after purchase. Store the questionnaire on your computer and submit it when you're ready. Submit for your pre- and post-graduation transcript anytime between now and September 2024.
How long do I have access to the questionnaire and the elearning program?
How does lifetime access sound? After enrolling, you have unlimited access to the questionnaire and the eLearning program, but transcript submittals are requested to be received no later than September 2024.